Let Us Help You Grow Your Business!
We make sure to start off with the right permits and compliance
Competitive insurance quotes for new ventures
We have loads throughout the whole nation
Fuel rewards each time you pump
Fast and transparent pay for your loads
When you make the decision to start your own trucking business, you are choosing to put yourself and your career first, as it presents the opportunity for immense growth within the industry. However, you must keep in mind that with growth also comes challenges, and you must prepare for them. As you may know, there is a lot that goes into starting your own company, such as registration and permits, finances, compliance, and fleet software. But don't let this hold you back–today, we're going to be breaking down everything you need to know to start your trucking business.
Step #1
Register your business
1. The first step is to register your business with your state. Some things to keep in mind when doing it:
Decide on a name for your business
Choose a business structure that works for you: Limited Liability Company (LLC), Corporation, Partnership, etc.
Define the type of cargo loads you want to transport
2. Get an Employer Identification Number (EIN) from the IRS to formally create a company. You will need this number for tax purposes.
3. Get a Motor Carrier (MC) Number. This defines the type of cargo you can carry, and it allows you to drive interstate
4. Get a USDOT Number. It's a unique ID that allows the FMCSA and Department of Transportation to monitor your company's safety practices.
Step #2
Insurance, Operating Authority,
Permits, And Registrations
Every carrier needs insurance to begin operating in the USA.
1. You need to activate your MC by purchasing an insurance policy specific to your business and the Operating Authority you requested
2. You need a Certificate of Insurance (COI). You will need this so brokers and companies can start giving you loads to transport.
3. Get a UCR Permit. The Unified Carrier Registration (UCR) system confirms that you are actively covered by an insurance policy in the states where you want to operate.
4. Pay the Heavy Vehicle Use Tax (HVUT). This is an annual tax for all vehicles that operate on public highways.
5. Register for an International Registration Plan (IRP). This enables you to operate interstate in all the states that are members of the IRP.
6. Set up an International Fuel Tax Agreement (IFTA). You will need the IFTA to file your fuel taxes quarterly.
Step #3
Get The Permits You Need
1. Get the extra permits you might need to drive through certain states, like:
NYHUT Permit (New York)
New Mexico Permit (NM)
Oregon Permit (OR)
New Jersey Business Registration
California Permits/Licenses
Kentucky License (KYU)
2. Consider if you need any special permits depending on the cargo and business you're running. A few examples are:
Automobile Transporter Permit
Oversized, Overweight and Over-dimensional
Liquor Transport Permits.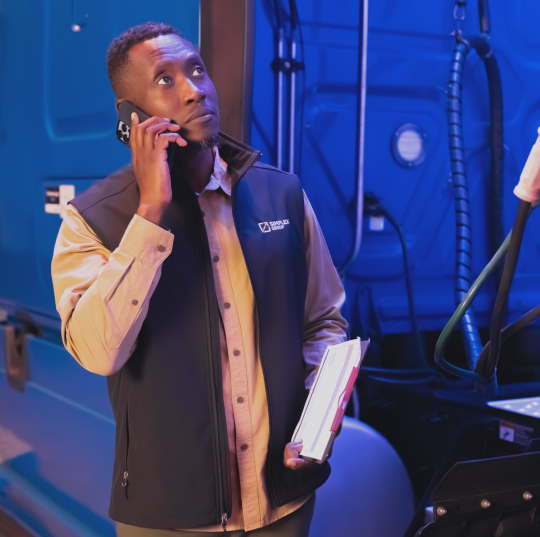 Step #4
Business Is Up And Running,
How Can You Make It Better?
Some common obstacles Owner Operators face on the road include:
Waiting between 30-90 days to get paid after completing a job, dealing with brokers to secure that payment while you complete other jobs, with different brokers and the cycle repeats itself.
Lack of cash flow to cover things such as fuel, which is one of your largest expenses, and dealing with changing fuel prices all over the nation.
Step #5
DOT/FMCSA Safety Compliance
Program & Drug And Alcohol
Testing Program
After getting insurance, figuring out how to get paid, and getting every green light to conduct your business, it's important to have a plan to stay compliant with FMCSA and DOT regulations. This will be an important part of running your business and ensuring it succeeds in the long run. Here are some ways the FMCSA/DOT regulations are present in your operations:
Everyone with a CDL and MC is required by the FMCSA to conduct substance and alcohol testing randomly and regularly.
As an owner-operator, you qualify as both an employer and a driver. Because of this, you must comply with the drug and alcohol testing requirements that apply to employers and drivers according to the FMCSA.
After completing all the paperwork to be an operating carrier you will go through a mandatory New Entrant Safety Audit within the first 12 months of activating your MC and DOT numbers.
The New Entrant Safety Audit is designed to ensure you comply with safety regulations. You can pass or fail this audit. For this and any audit, you will need to stay in compliance with record-keeping practices.
For example, driver qualification files, driver logs, safety records, and all drug, and alcohol testing program reports, are among the reports and logs you need to keep to stay compliant.
Step #6
Electronic Logging Device (ELD)
You will need an ELD to track HOS, miles, and fuel expenses, keep the correct records in the truck, pull up forms and reports when needed, etc.
Managing everything can be overwhelming and it can lead to some things falling under the rug because there are too many things to keep in mind.
Step #7
Getting a Fuel Card
You'll soon find that fuel is one of your highest expenses. Everything from pumping fuel and paying fuel taxes adds up and takes a toll on your bottom line. That's why some people opt to get a Fuel Card that helps them get some more benefits out of the pump.
Step #8
How to Get Loads?
At the beginning of any trucking business, owner operators encounter difficulties getting loads from respectable brokers. Most brokers want you to have a certain amount of experience and mileage before they hire YOU.
Getting loads becomes a job in itself apart from all the other elements we've covered in this manual. That's why people look for dispatching services, to have an ally that can take care of finding loads and help you design your routes
Here at Simplex, we're ready to help you through every step of the process of getting your trucking business started. From our freight planning to our DOT safety compliance services, we're fully equipped with everything you need to run your new trucking business and keep it afloat.